Craving for movies? Here's a list of the best websites to watch movies online – fast, no buffering, HD streaming.
Everyone loves to watch new movies. The days of renting a DVD or Blu-ray are gone. Now you can access a massive catalog of films right from your phone and computer.  Also, there is a nominal cost involved which returns with a multitude of benefits. With basic internet connectivity, you can kill time and beat the blues by streaming movies instead of illegally downloading them.
Watching movies online is as easy as baking a pie. Only a handful of on-demand streaming services providers rose to gigantic proportions. From offering blockbusters to award-winning foreign language movies, their entire digital library is at your disposal.
Top 5 Sites To Watch Movies Online
So we selected the top 5 sites to watch movies online. Out of these five movie streaming services, only Netflix and Amazon Prime Video support 4K HDR streaming.
Netflix: Netflix is the king when it comes streaming movies, TV shows, and specials. It carries an excellent selection of films ranging across genres, languages, subjects (documentaries), and region. The best thing about Netflix is its presence on most devices — smartphones, tablets, TVs, and streaming boxes. Regardless of the gadget,  you can download many flicks for offline viewing as well. Right from the top superhero blockbusters from Marvel Studios to Netflix Originals — the catalog is massive and refreshes often. Even kids can enjoy animated, and action movies and Netflix lets you create a child-friendly profile too. Netflix plan starts at $10.99 per month for HD streaming, and you can opt for a higher plan for 4K HDR quality streaming. Netflix lets you try out the service free for a month.
Hulu: Hulu is an ad-supported subscription-based streaming service that is available across platforms. It offers a range of classic movies to the latest blockbusters. The Hulu app is available for Android and iOS. Since the service is available only in select countries, a VPN service is a must if you are accessing outside of the US. GO for a free account that gives you unlimited access to ad-supported movies. The basic Hulu plan starts at $5.99 for unlimited access, stream across different dives and switching to different plans. You can also add No Commercial add-on to remove the adds. Besides, the HBO, Cinemax, and Showtime add-ons also let you add more flicks to the library. You get one month of free access when you signup for the $5.99 plan.
Amazon Prime Video: Amazon's Prime Video comes close to Netflix when it comes to movies library. Amazon provides Prime Video as part of a bundled subscription plan. Amazon regularly inks deal with several big broadcast companies and studies to update its library. You can buy Amazon's Fire TV series of products to enjoy Prime Video content along with hooks for other movie streaming services as well. On top of that, you can also download the movies on your Android or iOS-based device to enjoy it in the offline mode. Just like Netflix, Prime Video also offers a range of animated and action films suitable for children as well. For roughly $119 per year, you get access to the top flicks along with ebooks, music, and free two-day shipping.  If you are not a Prime member, it costs you a bit to rent or buy a digital copy of a movie.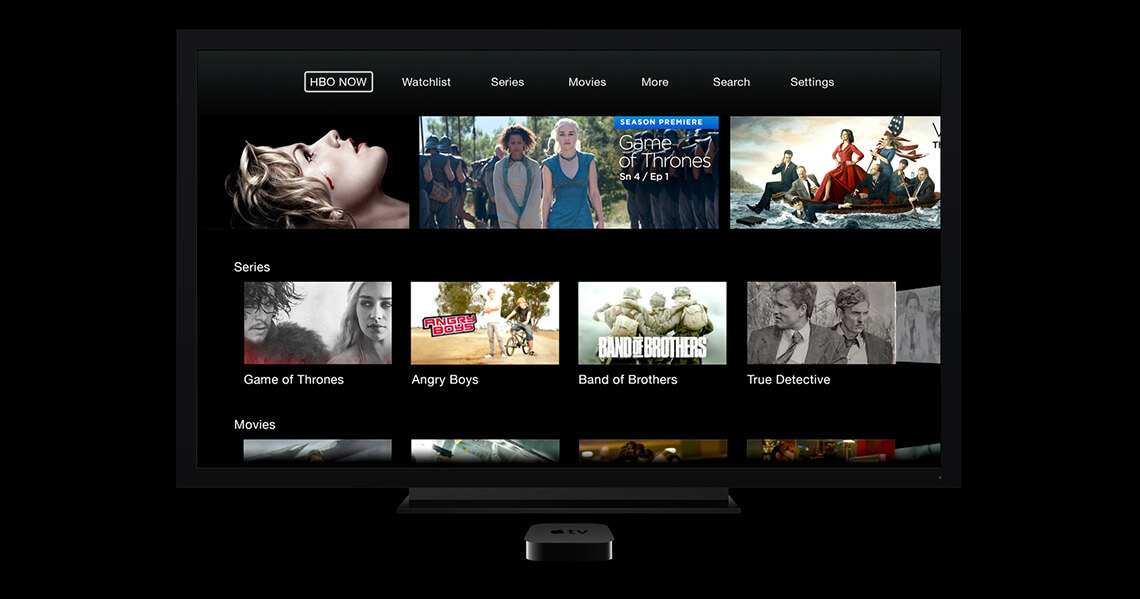 HBO NOW: HBO NOW is available mostly in the US, but you can access it using VPN services. You will find HBO original content starting at $14.99 per month. A lot of top-tier movies appear in the HBO's library and are seldom rotated. Though the subscription is on the heavy side of price, you can add HBO to Prime Video or Hulu to try it out.  You can access the service using its dedicated apps for iOS and Android. The HBO NOW app is also available for Apple TV and is capable of full HD resolution movies.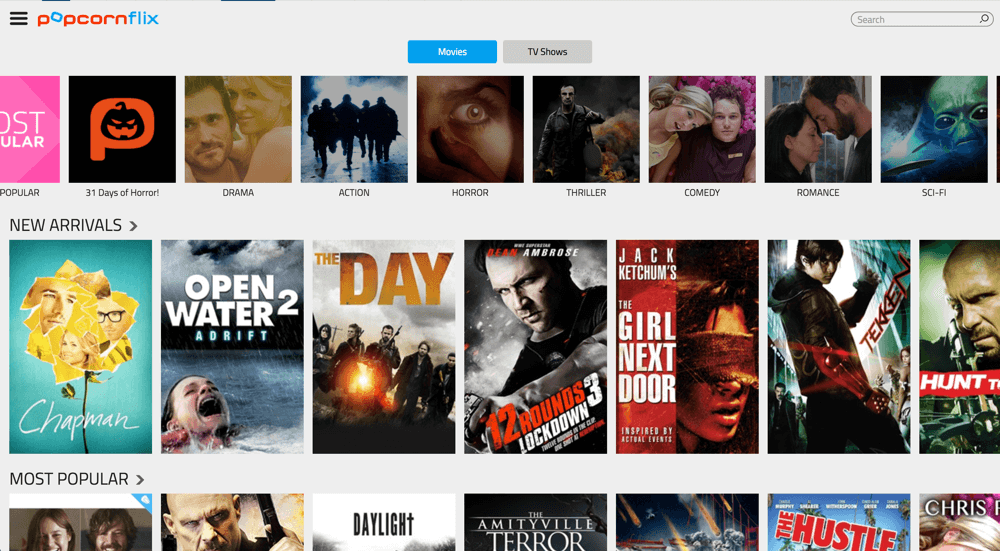 Popcornflix: Are you a fan of Indie movies? Popcornflix gives you free access to stream hundreds of films. You must create an account first to check out the library though. The website is ad-supported, so you'll see a few while watching a movie. However, those ads are short. Popcornflix carries a lot of flicks that are now available in the public domain along with the original content. The movies catalog covers many genres and includes TV shows as well as National Geographic Series. The website is usable on all kinds of devices without spending a dime.