What are the best online internet speed test websites? Here's the list of top mobile WiFi and broadband speed test sites that delivers result with high accuracy.
Internet Speed Tests are great to check whether you are getting the speeds which your ISP promises and advertises. You can use the speed test sites to get a fair estimate of the real-world details about the bandwidth available to you.
The speed test sites are also an excellent resource to keep a record of the results to figure out if your ISP is throttling the bandwidth. Do note that the speed test sites provide you with results that give a generic or nearly accurate idea of speeds at that particular time. These tests are no absolute but undoubtedly helpful enough to troubleshoot the probable cause.
Top 5 Internet Speed Test Sites
Speedtest.net: Ookla's Speedtest.net website is usually everyone's go-to destination to test out their internet speeds. The site works on a simple logic – pick the closest server out of thousands and run the speed tests. In the results, it presents the latency and packet loss along with the upload and download speeds.
You can always choose a different server manually since the site shows server locations with distance mentioned. The site boasts of having over 7440 testing servers spread out globally.
Besides, it allows you to access the history of your speed tests. Do check out the market reports that act as a guide to gauge the status of the broadband and mobile internet. These reports are compiled based on millions of speed tests results across the globe.
Fast.com: If you are concerned only about the numbers, then you should check Fast.com. It is a Netflix-owned site with a simple interface and easy on the eyes. Also, it is a service-specific speed test which means that the download tests take place between Netflix's servers and your device. These Netflix servers are the ones which they use for their custom Content Delivery system called Open Connect.
The Fast.com website has big fonts for speeds, and that's all matters. Do note that the site serves as a service-specific test. The results might come close to those obtained using other speed test sites. Its no-nonsense display of relevant numbers makes it easy for anyone to know what kind of speeds they are getting.
SpeedOf.Me: The SpeedOf.Me is one of the best speed test sites to measure your internet connection speed. The website is built using wish HTML5, but you need to enable Java or Flash plugin in your web browser to use it effectively. SpeedOf.Me performs specific tests that include downloads and browsing to emulate a real-world usage scenario. The site queues up files in increasing sizes to upload them in a sequence. That's how a typical user uploads and downloads files, isn't it? That's how the site aims to record the actual downloading seeds.
SpeedOf.Me shows a real-time graph of speeds achieved and also lets you access your speed test history. The website on quickest and the most reliable servers (out of its 88 available servers) after careful calculations rather than picking a server location. The site loads quite fast since it is lightweight and thereby doesn't chew too much of your system resources.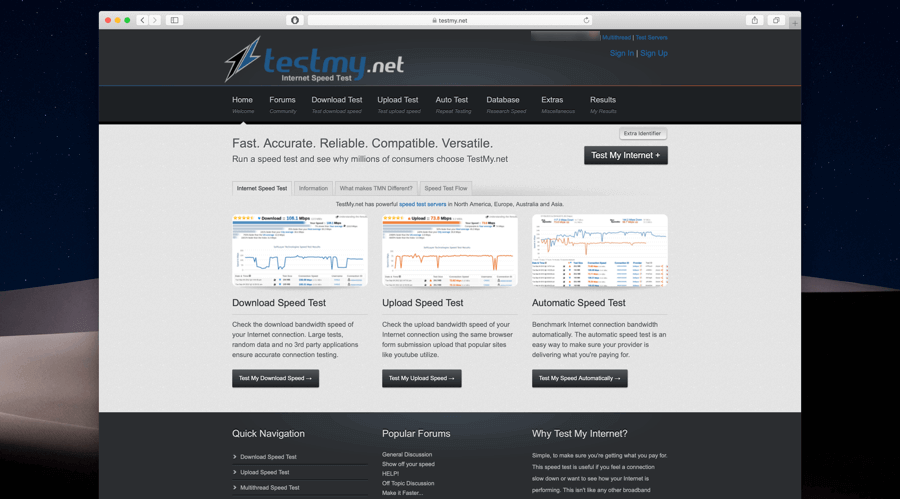 TestMy.Net: TestMy.Net is a slick website built using HTML5-only and requires no Flash or Java plugin. It is the site to try out if you seek more data over just number or a simple graph shown in other speed test sites. Also, TestMy.Net offers separate tests to measure your upload and download speeds respectively.
A typical speed test result packs a lot of data which can be overwhelming. For instance, there's a graph showing your connection's consistency throughout the test. Apart from that, the test results from the recent users come in handy to compare your speed tests. The best part about this TestMy.Net is the availability of documentation and guides in abundance. You can always use them as a resource to identify the possible bottlenecks with your internet connectivity.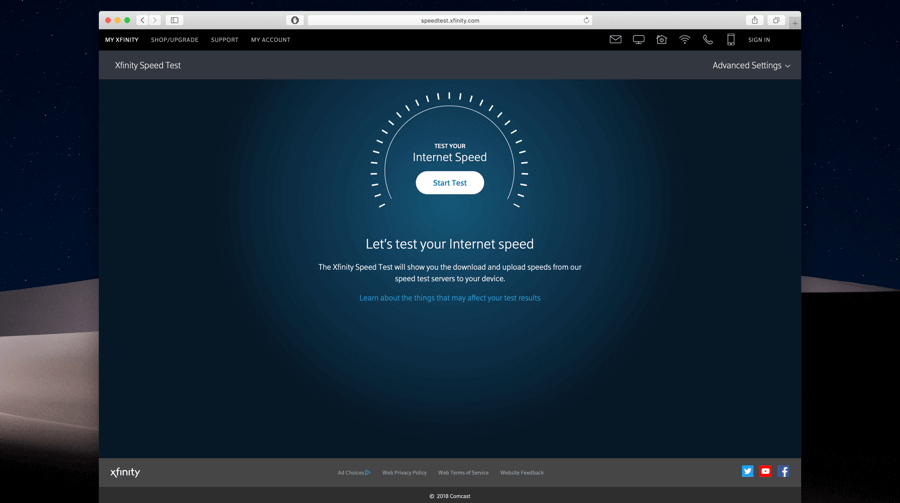 Xfinity Speed Test: Comcast's Xfinity Speed Test site gives you the option to choose different servers located across the region. Just like many other ISPs, Comcast has released the Xfinity Speed Test site mostly for its customers, but you are free to try it out. Surprisingly, the speed test connects you to the Comcast's test servers that are powered by Ookla. The speed test downloads and uploads small files to calculate the internet speeds and network latency.