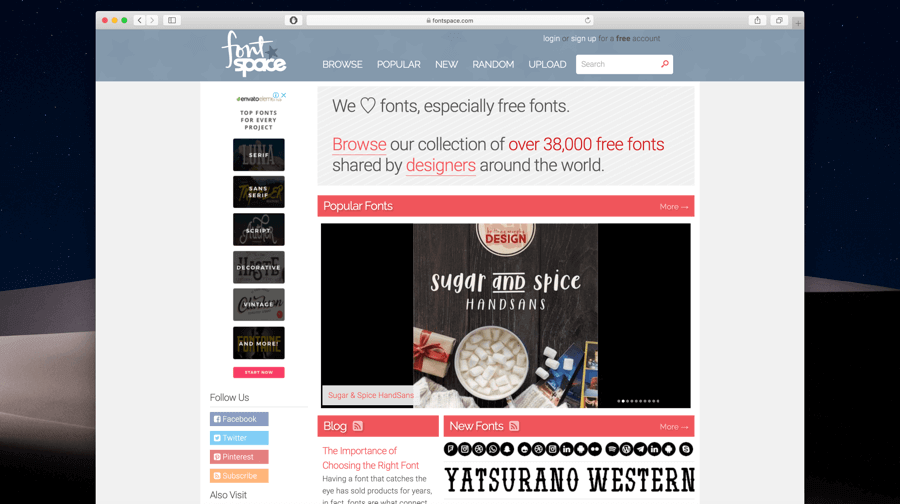 FontSpace is one of the top websites out there providing free fonts for commercial or personal use by web designers or image designers or font enthusiasts out there for download. With 38,112 fonts, 2,571 designers all over the world contributing to it's expanding font database and a million users. FontSpace provides free fonts to download with a very interesting, easy-to-use interface.
FontSpace has a neatly built homepage that provides its users with easy to find fonts. Each font comes with the year it was created and the font designer's information along with it. There is also information about the licensing of the font – whether it is for personal or commercial use. FontSpace has designated categories with fonts pertaining to it which makes it easy to search. FontSpace also displays the most recently added on its homepage. Its homepage also has a list of font designers whose work you can follow. The user can also access special fonts that are customized specifically to suit the point size needs of the user. A unicode text analyzer helps the user find out the codepoint of any unicode text input. A user can also upload his/her font onto the website after providing it's legality for web embedding. Users can also sign up to get an access to forums, font designers, graphic designers and font enthusiasts. Make lists of favorite font and share with other users. Comment on fonts to show approval and rate them.
To download any of the font on FontSpace, the user has to check if it has been licensed for commercial or personal work and if that matches with the use of the user likewise. After that to download any font one has to click on the download button to get a zip file of the font downloaded onto the computer. After that the files have to be extracted from the zip file for use or web embedding. FontSpace also provides an option of contacting the designer to enquire about the use and legality or any queries the user has about its usage.