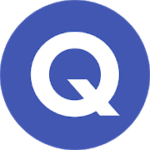 Quizlet is one of the top study apps loaded with great features that make studying easy and fun while keeping the intensity and it is available for absolutely free of charge for all major operating systems. More than 30 million students use Quizlet on a daily basis to prepare for an exam in their academic career. Quizlet can make you exam ready as fast as you can be using Flashcards that you make for yourself or you can use flashcards made by other users which are available for free and use them to practice as much as you want for all the major exams such as a SATs and local exams in your school such as midterms. Quizlet encourages you to write in a limited time so you can get familiarise with the pressure and race against time that you face in the exam hall, the "learn" feature in the app lets you exam ready and "write" feature in the app test your memory. "Match" is the mode in Quizlet where you race against time and solve as many questions as you can in a limited amount of time.
Quizlet has an ad-free user interface where you get no ads that distract you from studying and you also get a night theme in the app which helps you relieve some of the stress from your eyes. You can also buy Quizlet Plus to get offline access for the majority of its Flashcards and many more premium features like image uploading an unlimited number of classes from the website. Quizlet Plus is also available for free for a week where you can use it and get to know if it is worth it which the app often is for most students and teachers.
Download Quizlet v4.4.3 for Android
Download Quizlet for Android.
Wait for the app to download and then install it.
Run Quizlet and take the test.