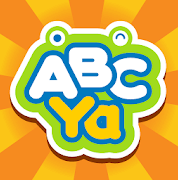 ABCya is an education app that provides games and activities for toddlers and kids. There are five grade levels ranging from pre-nursery to fifth grade. A majority of these games meet the standards of the Common Core State Standards Initiative. The website was founded by Alan Tortolani in 2004, a public school teacher whose school did not have the funding required to purchase new software for the computer lab. The website today has nearly 13.2 million monthly and the app is ranked in the top 20 in the Apple App Store's Education section. The website has also won Parent's choice award in 2014. The application is available for free on the Google Play Store, Apple App Store and the Amazon AppStore for Android.
Features of ABCya v1.0.8
The app features over 250+ games and activities so your kids can stay entertained.
Parents can browse the categories for their kids according to the grade level and categories.
There are no advertisements in the application which means your child has no interruptions while learning
ABCya! is kidSAFE Seal program certified which means that it is child-friendly and easy to use
It features six games for free every week.
Users can unlock additional games by paying 5 dollars a month
ABCya has been featured in leading media publications such as The New York Times, Parents Magazine, USA Today, Scholastic among others.
How to download ABCya v1.0.8?
Want your child to learn in a fun way? Download ABCya! today.